About BJ Angus
John and Bonnie Slocombe, lifelong Kansans, have raised Angus cattle their entire lives.
John's family owned a grain and livestock ranch outside of Burns, Kansas and Bonnie's family owns a grain and livestock ranch outside of Ransom, Kansas. Both families raised Angus and commercial cattle that were fed in backgrounding and finishing feedyards where performance data was collected and used to improve their beef enterprises. Their families were both known for producing quality Angus and commercial cattle that performed in the pasture, feedlot, and on the rail.
John and Bonnie pursued academic careers at Kansas State University (KSU) and Iowa State University. In 1993, they applied experiences and knowledge gained in formative years with the expertise of a few seasoned Angus breeders to begin their Angus seedstock operation. Six foundation females were purchased in 1993 with the long-term goal of developing a premier seedstock operation in northeast Kansas. Today, BJ Angus Genetics calves more than 200 cows annually in native Flint Hills pastures, all of which are produced from artificial insemination and embryo transfer.
In addition to raising Angus cattle, John and Bonnie work in off-the-ranch careers. John is a Professor of Engineering at KSU where he teaches and conducts Extension programming in the Department of Biological & Agricultural Engineering and Bonnie is the Director of the Laboratory at Via Christi Hospital in Manhattan, Kansas. John and Bonnie's son, Eric and his wife Melanie and their sons Dylan and Taylor live in Overland Park, KS where Eric is the Director of Engineering for Shuttlewagon, Inc. and Melanie is an Occupational Therapist. Their daughter Jennifer lives and works in Manhattan, KS.
In 2008 John & Bonnie received the USDA Grassland Conservation Award. According to Alex Miller, USDA Rangeland Management Specialist, the award is presented to beef producers who strive to protect the regions tall grass resources. In cooperation with the USDA-Natural Resources Conservation Service, the Slocombe's developed a conservation plan for their registered Angus cattle operation that consisted of cross-fencing pastures, constructing ponds, installing frost-free waterers, and implementing a rotational grazing system. These improvements will assist in preserving the tall grass prairie and provide reliable clean water sources year-round.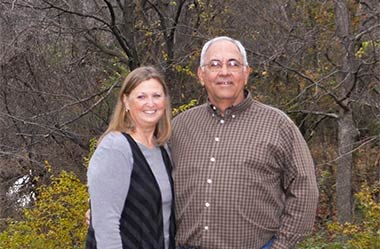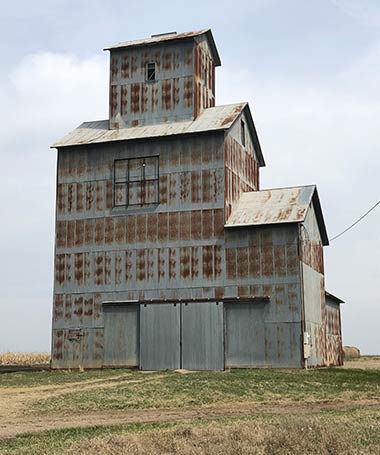 Slocombe Elevator
Skyscraper of Burns, Kansas